Diane Ford, our current Artist-in-residence
When many of us take bird photos, Diane drafts sketches which she later turns into full paintings. Over the past few years she has been commissioned to paint our Member of the Year's favorite bird, to the recipients' delight. We asked Diane how she became an artist.
Wow. How did I become a painter? Answer- I've been scribbling and drawing since I could hold a pencil. When I was in Elementary school, I would often look at nature books with lots of photos of mammals and birds and draw my own pictures. I also enjoyed many visits to the National Zoo! My favorite nature book was the Golden Guide authored by the legendary Chan Robbins and illustrated by Arthur Singer. Although I took advanced art classes in high school and a figurative sketching class in Junior college, I'm pretty much self taught. Being out in the field and seeing spring and fall migrations as well as winter birds inspires me to keep portraying the beauty of nature.
As to how I became a birder: I was about 12 and we were spending our summers on the Chesapeake Bay at a Marina which was rather rustic. There were marshes and plenty of woods. I was bored one day, and my father handed me a pair of binoculars and said " go see something". Little did he know, he opened up a world of bird watching for his daughter. I watched herons and ducks, egrets, swallows, sparrows, blackbirds, peeps and later wrote it down. That was it!
From left to right: Diane's painting of two Yellow-throated Warblers, now in the house of Linda Friedland, guest of honor at our 2019 Social; Diane's sketch of an Eastern Red Bat; Diane.

Members of Montgomery Bird Club contributing to Maryland Birdlife
Members of the MBC have been taking pen to paper, or fingers to keyboards, to report various bird studies and observations over the spring in the publication, Maryland Birdlife.
Past president, Clive Harris, wrote an extensive treatise on the various subspecies, especially the two found in Maryland, of the Greater White-fronted Goose (Anser albifrons). He presents detailed information on how to distinguish A.a. gambelli ("Western") from the less common A.a. flavirostris ("Greenland").
Nathan Tea found a pale Carolina Chickadee (Poecile carolinensis) that he and current club VP Scott Young wrote up  as an example of the "Brown" mutation.
Another pale bird, a Chipping Sparrow (Spizella passerina), was suggested by Scott in another report  to be an example of progressive graying.
The latter two articles will help us not automatically think "leucistic" or "albino" when we find pale birds.
All thee articles appeared in the MOS Spring issue of Maryland Birdlife (volume 70, issue 1).  The Maryland Birdlife page of the MOS Website can be found here.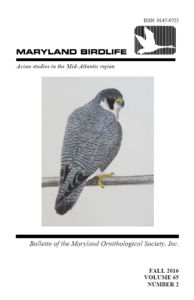 The History of our Pileated Woodpecker Logo
Our Pileated Woodpecker logo started life as an embroidered patch (see photo), the creation of Pat J. Moore.
Some 30 years ago Pat and her husband Neal retired to the Outer Banks of North Carolina, but for 30 years before that they lived in Montgomery County. There they became active members of the Maryland Ornithological Society (MOS) and its budding Montgomery County Chapter (now the Montgomery Bird Club). Pat served as MOS Secretary from 1986 to 1990 under MOS presidents Tony White, Bob Ringler, and John Malcolm. She participated in the Seneca Christmas Bird Counts for 18 years.
But it was as the Club's "artist in residence" for which Pat was best known. Each year she drew name tags for the MBC social, with members' names calligraphed. (Those were the days!) She also illustrated the covers of the booklets that listed the names of each year's Club officers–an idea of Frank Witebsky, MBC President in 1979-80. And she drew and hand-wrote the
It was John Malcolm, Club president from 1989 to 1992, who asked Pat to design a patch for the Club. (At the time, club patches sewn on jackets or hats were very popular.) John wanted it to represent a Pileated Woodpecker because our local Christmas Bird Counts regularly tallied some of the highest Pileated Woodpecker counts in the nation.
Pat also contributed more than 30 beautiful bird illustrations for the first Atlas of the Breeding Birds of Maryland and the District of Columbia (1983-87), including several owls and shorebirds. In 1987 she designed the winning pin for the annual MOS Convention and has been a judge for the pin competition ever since.
Pat was an English teacher, not a professional artist, but she was influenced by her father who did draw and paint and she took classes of drawing and of calligraphy. Her parents were also the source of her interest in birding: they took it up seriously when Pat got married, so when she subsequently visited she had no choice but to go birding with them.
Now 93, she still recognizes the calls of the Cedar Waxwings outside of her home.
Thank you, Pat!
Evelyn Ralston & Lydia Schindler, based on a phone conversation with Pat J. Moore, April 2021.
From left to right: One of the original patches;  At the MBC Social 2005, Pat was present to cut the 40th birthday cake for the Club; Pam's Willet in the 2nd Breeding Bird Atlas.
Gemma Radko
For many years, Gemma Radko was the Designer of our Newsletter, the Chat for which she created whimsical cartoons, precise drawings, and the famous title banner. In addition she is a licensed Bird Bander and teaches the Audubon Naturalist Society's Ornithology class. Here is what she told us.
As far as how I became a designer…I was actually an art major in college, but that was in Studio art (this was in 1985, before desktop publishing really took off). In the course of my first job, I began to make that transition from drawing board to computer, and now do all my designing on the computer. I was lucky enough to get a job with American Bird Conservancy back in 2005, where I could combine my career skills with my passion for birds and bird conservation.
From left to right: Gemma banding a Semipalmated Sandpiper; Gemma's dawing of a Black-throated Green Warbler; and her Bird Bath.